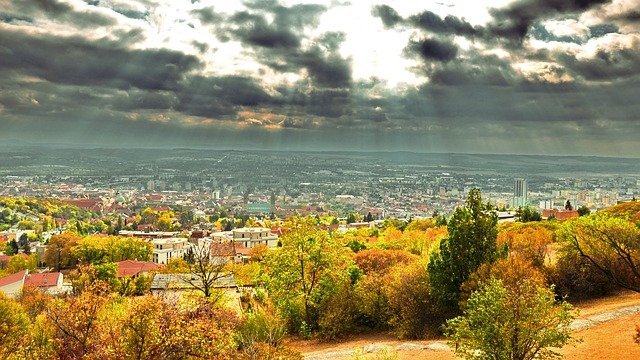 The summer is over, but it doesn't mean the traveling is over. In autumn the world looks a little different and even more interesting.

The cities of Europe change the colors and shades of nature, but their world-famous sights remain the same. There are some cities of the Old World that are a must-visit in autumn. Why not go there?

Ancient Óbidos. Portugal
The charm of Portugal is difficult to overestimate. In autumn, Óbidos is especially attractive:It is a small town full of historical sights, for example, Castelo de Óbidos, in which you can even rent a room if you want to lodge at a place with medieval atmosphere.

"Don't leave for tomorrow what you can do today." – Portugal proverb
Óbidoswill fascinate even most experienced travelers with its delicious traditional dishes, as well as Ginja de Óbidos– marvelous cherry liqueur. Here you can get acquainted with the services of tourist guides from Portugal, who will gladly introduce you to their country.
Festive Sofia. Bulgaria
The capital of Bulgaria is a very hospitable city. In autumn, you can enjoy a walk down the central streets in the Bells Park (Kambanite), where you can admire bright autumn colors and picturesque views. One of the most interesting sights of the city is the Museum of Socialist Art, where you can get acquainted to the paintings of that time, many of which may look naïve today.

"Nature, time, and patience are the three great physicians." – Bulgarian proverb
Another place to visit in Sofia is the famous Church of Alexander Nevsky. If you decide to travel to this amazing country, contact the tourist guides of Bulgaria for more tourist routes and information.
Brighton Sea Resort. United Kingdom
Brighton is one of the most beautiful cities of the island. Especially in autumn. During beautiful warm autumn, the weather allows you to relax at one of the city's beaches. Even if it might be a bit uncomfortable to swim, you can enjoy incredible autumn scenery, andlounge in bars and restaurants on the coast. The Royal Pavilion Palace, the Art Museum, Brighton Pier are most popular city's attractions to name a few. Here tourists can take a look at the world's largest marina.

"A journey of a thousand miles begins with a single step." - English proverb
If you visit Brighton with kids or you would like to feel the carefree spirit of childhood on your own, you can visit the Toy Museum with numerous unique exhibits. The entire Great Britain is an open-air museum, and local tourist guides can show its famous treasures.
The natural beauty of Rovaniemi. Finland
If you visit Rovaniemi in autumn season, you can seefabulously beautifulboreal glow. Even if there is a lot of time left for Christmas, you can hand your letter to Santa Claus, as Rovaniemi is its official residence.

"Happiness does not come from happiness itself, but from the journey towards achieving it." - Finnish proverb
Tourists can visit the Arctic Zoo and bring a lot of joy to their children, but the way, adults will get fascinated as well! You can get to the Zoo from Rovaniemi by one of the regular buses to Ranua city. If you want to have fun, you should visit Santa park or Santa Claus Village. Tourist guides of Finland will be happy to help you get acquainted with this magical country and enjoy your vacation!

Autumn is a great season for traveling: a lot of work is done, it's time for a vacation. Enjoy!